How To Make Silhouette Art With A Cricut – An Easy Vinyl Cricut Project!
Post may include affiliate links. We may earn a fee if you use them at no cost to you. Disclosure.
TURN ANY PHOTO OF A LOVED ONE INTO A GORGEOUS PIECE OF ART THAT YOU CAN HANG ON THE WALL OR GIVE AS A GIFT WITH THIS EASY SILHOUETTE ART CRICUT STEP-BY-STEP TUTORIAL!
This was one of my very first projects when I got my first Explore Air 2 and I think it's the perfect beginner Cricut project! I was in the middle of redecorating and I wanted a piece of art that would go really well with our design, be minimalist, and include something super personal.
Then I came up with this project, tried a few variations (like making it with watercolors) and ultimately landed on this version using metallic vinyl which I love and I think you will too!
In this project, I'm going to show you how to turn any image of your kids, spouse or even your pet into silhouette art that fits your home like a glove within just a few minutes! Need a Mother's Day present? Birthday Present? Or just need to fill a blank wall? Keep reading!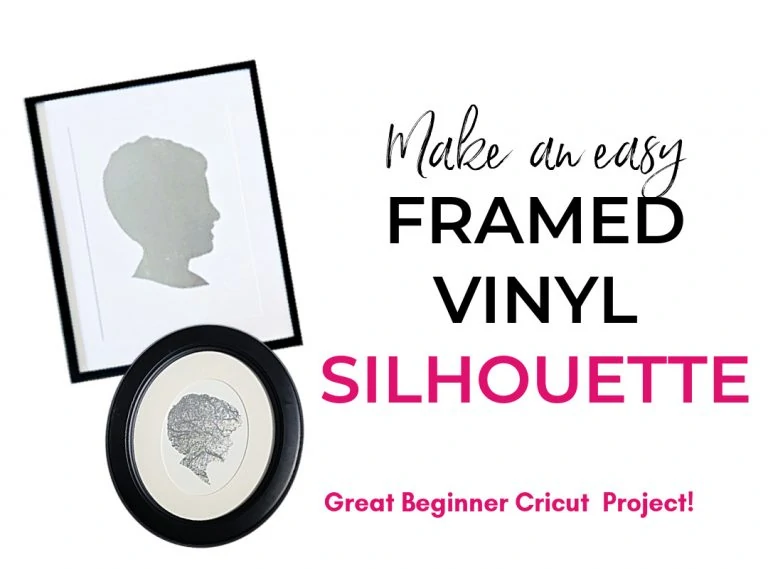 I especially love this project because of how quick and easy it is! All you need is a Cricut machine, watercolor paper, some vinyl, and the frame you want to put your art in!
Isn't that amazing? That might be a record for the smalleset material list! haha
The hardest part of this project is turning your image into a silouette for your Cricut to cut. I'll show you two ways to do it – one is an easier way for high contrast photos, and the next is what to do if your photo isn't high contrast enough for that method.
Alright, let's dive right in! Read carefully for all my tips along the way and if you still have questions, just leave a comment and I'll reply ASAP!
Quick Links to Information in this Post
Materials needed to make Silouette Framed Art
Frame
For this project you can use any type of frame you want and virtually any size, but I recommend getting one that's no more than 20 inches high or wide. That's because on your standard Cricut Mat, you can only cut an 11.5×11.5 image.
If you REALLY want to do something longer you, you can either cut your image into multiple pieces or cut it on a 12×24 sized mat! We won't be covering how to do that here but if you're interested in learning how to cut your image into multiple parts so you can make it larger than 12×12, just let me know! Leave a comment a I'll add it!
Watercolor Paper
I love the look of a silouette on watercolor paper but this isn't all that critical. It's up to you and your preference!
In fact, you could really change things up and use colored paper, or add an abstract painting to some paper and then add the vinyl silouette to that! Whatever you prefer here you can do!
Permanent Vinyl
I don't want to ever have to worry about the vinyl coming off so I went with permanent vinyl. That said, if you have some vinyl on hand that you'd like to use and it's not permanent, it should be okay.
Also, I went with this metalic silver vinyl for the silhouette because I have a lot of gray and silver accents in my house. You don't have to use the same one! In fact, you could go with something like a paterened vinyl too if you wanted!
I'd love to see what you come up with! Be sure to share photos of your creation!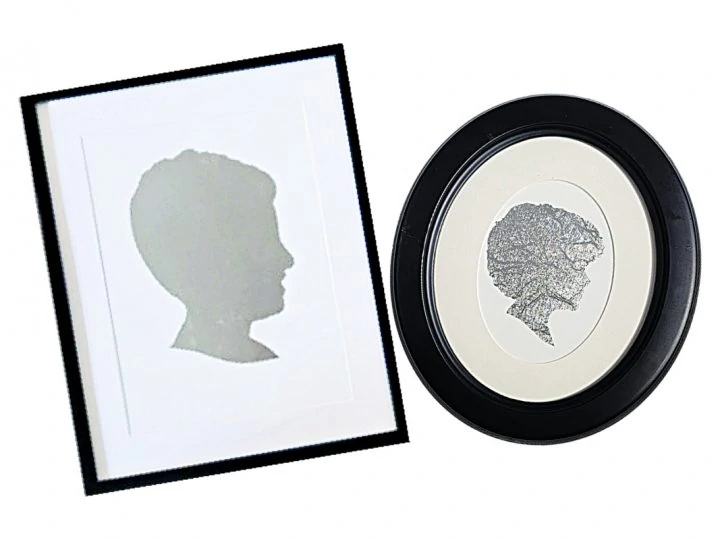 Yield:

1
How To Make Silhouette Art With A Cricut - An Easy Vinyl Cricut Project!
Let's make gorgeous but shockingly easy Silhouette Art out of vinyl!
Instructions
Step 1: Take or pick a photo
It's easiest to do this project with a photo that has high contrast between the subject and their background. This will make removing the background and turning the image into a silhouette, so much easier!
Taking a photo for the silhouette
So, if you are taking a photo specifically for this project, I recommend having hte subject (bet it your kid, your pet, a parent etc) stand in front of a background that is a solid (or mostly solid) color and that is very different from their skin color and clothing color.
Next, you will want them to turn to the side so that you are taking a profile photo of them against the background you chose. You may need to direct them to tilt their chin up or down to get the desired effect. Unless you're doing a pet silhouette - that's a bit more difficult to control!
Using an existing photo
If you can't take a custom photo of the person or pet you want to make a silhouette out of, that's ok! I'll show you how to work with a lower contrast photo.
That said, if you have a photo existing photos to pick from, try to pick one that follows the guidelines in the paragraphs above. It may just be a bit harder to remove the background otherwise but still doable!

Step 2: Remove background from photo
Next we're going to want to remove the background from our image.
There are a number of ways to do this. For starters, your smartphone may have a background remover built in! If it does, feel free to use that!
If not, there are two other great ways to go about this. The firsrt method we are going to try is the most direct method.
How to Create a Silhouette in Design Space
Here's how we do this in Design Space. Note that the more high contrast your image is (contrast between the person you want to make a Silhouette out of and the background is the more likely this will work!
1. Open Cricut Design Space
2. Click "New Project" (the plus sign)
3. Click "Upload"
4. Click "Upload Image"
5. Click "Browse"
6. Navigate to the image you want to use, select it and click "Open"
7. Choose "Moderately Complex" and click "continue"
8. The image will pop up but is likely zoomed in too much. If it is, zoom out clicking the magnifying glass with the negative symbol in it until you can see the whole image in your screen.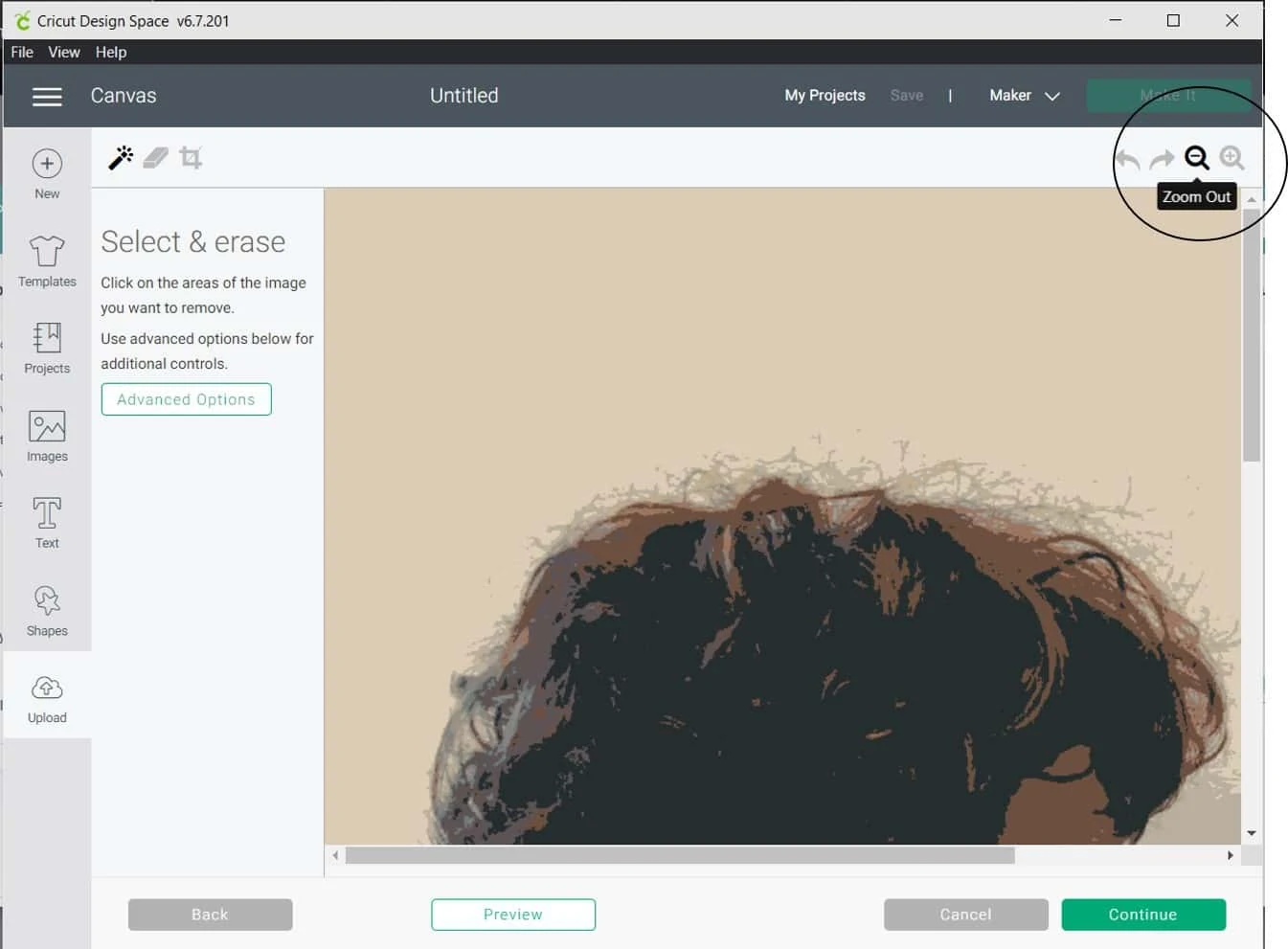 9. Now click on your background until it has all disappeared. Watch the background and subject closely as you do this, if a part of the person gets cut off, stop. If the part that gets cut off is way below the shoulders, don't worry about it and keep going. Continue removing the background until just the person/pet it left.
10. If part of the subject gets removed as you click on the background, click undo using the left arrow on the top right. Then click on "Advanced Options" on the left. Change the "Color Tolerance" to "8". Then try clicking on the background again. This will tell Design Space to only remove background areas that are closer to what you clicked. You can play with this number until you get to a setting that works and you can remove the rest of the background without cutting off part of the subject.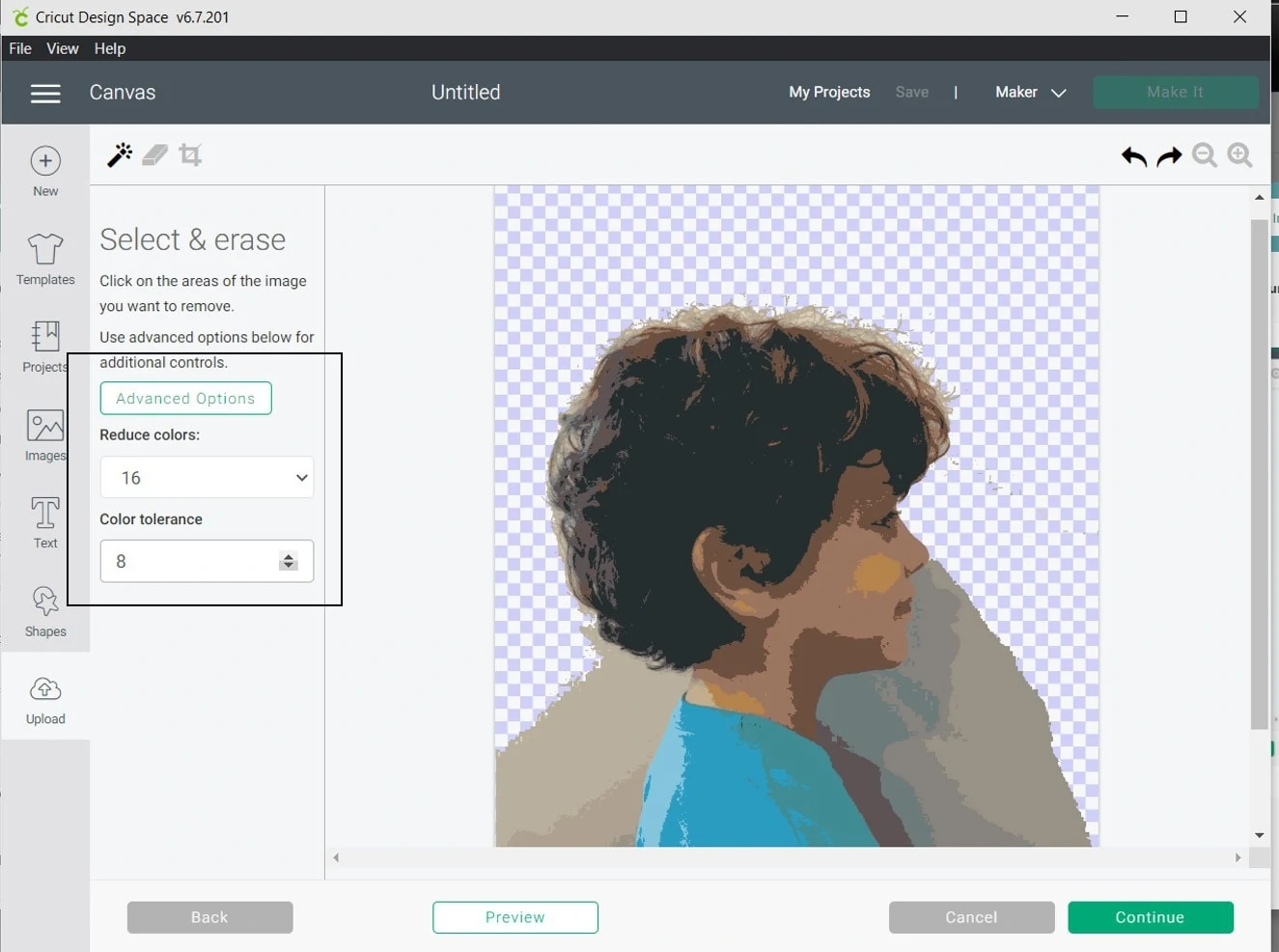 11. Once you have removed all the background that you can see, click "Continue"
12. It will look something like this. Don't worry! This is what you're looking for actually. Look at the photo on the left, doesn't it already look like a Silhouette? Take note of the specs around your subject where the background was, we are going to remove these. Click "Back" (Not cancel!)
13. Now click on the eraser and adjust the size using the slider so that your eraser (the circle) is a good size. Use this to erase those specs by clicking and dragging the circle over the specs. You want to get most of them but if you miss a few don't worry - they are likely so small that you will naturally miss them when you weed!
14. This step is optional but I really like the effect. Using the eraser again, "draw" a swish just under the neck (and all the space under that swish) to make the effect shown below. If you prefer a straight line, skp this step.
15. Click "Continue"
14. Select "Cut Image" and then "continue". Remember, a few extra specs is okay!
How to Create a Silhouette in Outside of Design Space
If the method above doesn't work,, try using an app on your phone or a website to remove the background. This could be faster, but I generally like to work in Design Space when I can! This is especially useful if your background has a lot of detail or there isnt' much contrast. I especially like using PicMonkey to remove backgrounds!
Step 3: Cut your image out on vinyl
1. You will now find yourself in the library. Click on the image you just made and click "Insert Image"
2. Your image will now open and likely be very big! Click the image and then change the size using the measurement fields at the top. Adjust it to the size you need it for your specific frame.
3. Click "Make It"
4. Click "Continue"
5. If needed, select your Cricut machine from the drop down box. Make sure your Cricut is on when you get to this step
6. You will now need to select your material type. If you have an Explore Air 2, turn your dial to customer. If you have a maker, you won't need to do anything special. Now select a vinyl option that most closely matches what you will be using. For the type of Vinyl I used, choose "Premium Vinyl-Textured Metallic".
7. Check that you have a Fine tip blade in the machine.
8. Cut a piece of vinyl that's big enough for the size you specified in design space and put it on your standard grip mat. If you are new to Vinyl, you will notice that the vinyl has a carrier layer and then the vinyl later. Put both parts on the mat with the carrier layer down and the pretty side of the vinyl facing up.
9. Feed your mat into the Cricut machine (Hold it up to the wheels and then press the double arrow button)
10. Click the flashing C to begin cutting.
11. When it's done cutting, press the doubel arrow again to unload the mat.
12. Remove the vinyl from the mat by flipping the mat over and peeling the mat back while holding the vinyl in place. This lessens how much the vinyl will curl.
Step 4: Weed Your Vinyl Silhouette
Normally in a vinyl project, weeding the vinyl is a really big part and can take some time. In this case, though, your image is just one piece! While you may have some small pieces because of the specs, this time, you don't need to worry about the small pieces! In fact, you DON'T want them! So, with your fingers, carefully remove the vinyl you don't want on the outside edges. You will likely be able to remove the whole thing in one pieces.
If you have some small internal pieces, likely caused by a hairstyle, you can use tweezers or a weeding tool to remove it. This is unlikely though.
When you're done with this step you will have JUST our vinyl silhouette on the carrier sheet.
Step 5: Apply your vinyl to paper and frame
1. Cut a piece of the water color paper so that it will fit in the frame.
2. At this point you should have just your vinyl silhouette on the backing. You could just pick up the silhouette and carefully place it on your paper.
3. If you need more insurance, place a piece of transfer tape over your silhouette image and press down. Then carefully fold back enough backing to expose about an inch of the sticky side of the silhouette.
4. Line up the silhouette on the page and then press down on the part of the silhouette that had the sticky end exposed.
5. Now carefully slide the rest of the backing off while pressing the silhouette into the paper to avoid bubbles.
6. Once the silhouette's backing is fully removed, scrape against the vinyl to ensure that all bubbles are gone.
7. Now carefully remove the transfer tape on top. If you do it too quickly, you may rip the paper.
8. Place your art inside the frame and close it! All done!
Recommended Products
As an Amazon Associate and member of other affiliate programs, I earn from qualifying purchases.
Frequently asked questions about making a Vinyl Silhouette
Q: Do you have to use permanent vinyl?
A: Nope! Chances are that regular vinyl would stick to your paper just fine but to be safe, I thought it best to use permanent vinyl. I'd hate for the edges to ever come up! But… if you find the perfect color or textured vinyl that you want to use and it's not permanent, go for it!

Q: Can you use this method to make a silhouette stencil instead?
A: You sure can! Once of my first ideas was to create a stencil and the paint an abstract watercolor around the silhouette! In the end, I liked the way the metallic vinyl looked better but there's no reason you couldn't do that method! Just cut the silhouette out on some thick cardstock and then use either piece as you stencil!

Q: Do you have to use transfer paper to apply the vinyl silhouette to the paper?
A: You don't if it's a small silhouette! If it's large, you probably want to. If it's roughly the size of your hand, you could likely apply the silhouette to your paper without transfer paper. Just be careful. It will REALLY stick so once the vinyl touches the paper, don't expect to be able to move it much.

Q: Do you have to use a profile picture to make a silhouette?
A: If you are doing a silhouette of an animal, like your dog, a straight on photo is likely fine. For a person though, you likely won't be able to see many features if any. I guess you could, but I don't think it would look as good.

Q: My Cricut didn't cut all the way through the vinyl and backing- what did I do wrong?
A: I get this question a lot from people new to working with vinyl. When your Cricut cuts vinyl, it will only cut the upper layer – the actual vinyl. It will not cut into the backing unless you set your Cricut machine to the wrong setting. This backing stays in tact so that you can easily remove the vinyl (and backing) from the Cricut mat.
If however, the problem is that the Cricut did not cut all the way through the top vinyl later, you may need to check your materials settings. There are multiple vinyl settings and one may be better suited for the thickness and texture of your vinyl.

Q: I can't seem to remove my background, what do I do?
A: If you've tried all the steps above and still struggle to remove your background, I would recommend taking a new photo if you can. Try taking the photo against a background that is super high contrast which will make it much easier.
If getting a new photo isn't an option, I recommend looking for a photoshop group on Facebook. There are many Facebook groups where people will gladly help you out for free and remove the background for you!

Q: Can I make this with a Cricut Joy?
A: You sure can! It will need to be smaller of course, but you definitely can!
I'd LOVE to see your framed vinyl silhouettes made with your Cricut! Please share a photo of your artwork on social media and tag me with @analyticalmommy and #analyticalmommy! It makes my day when I see your projects!
More easy Cricut Projects!
Want to remember this Cricut Vinyl Silhouette Project? Pin to your favorite board for later!