How to make a cricut paper flower + FREE flower templates and a video!
Post may include affiliate links. We may earn a fee if you use them at no cost to you. Disclosure.
CRICUT PAPER FLOWERS ARE A WONDERFUL WAY TO USE YOUR CRICUT MACHINE. PERFECT FOR GIVING THE GIFT OF FLOWERS THAT THEY'LL BE ABLE TO KEEP FOREVER! Download my FREE Cricut flower template svg files and read this step-by-step tutrorial to started making these gorgeous flowers today!
I love that these flowers are made out of JUST paper and glue but they look gorgeous!
When I first got my Cricut machine, I started out making vinyl projects and then I learned how to make these flowers and have been obsessed with them ever since!
Don't have a Cricut? Not to worry – I've got a way you can make these too! Stick with me…
Cricut paper crafts are always popular and these paper flower designs prove why! Not only are these Cricut paper flowers easy to make but I've got free Cricut flower template SVG files for you as well to make it a total breeze!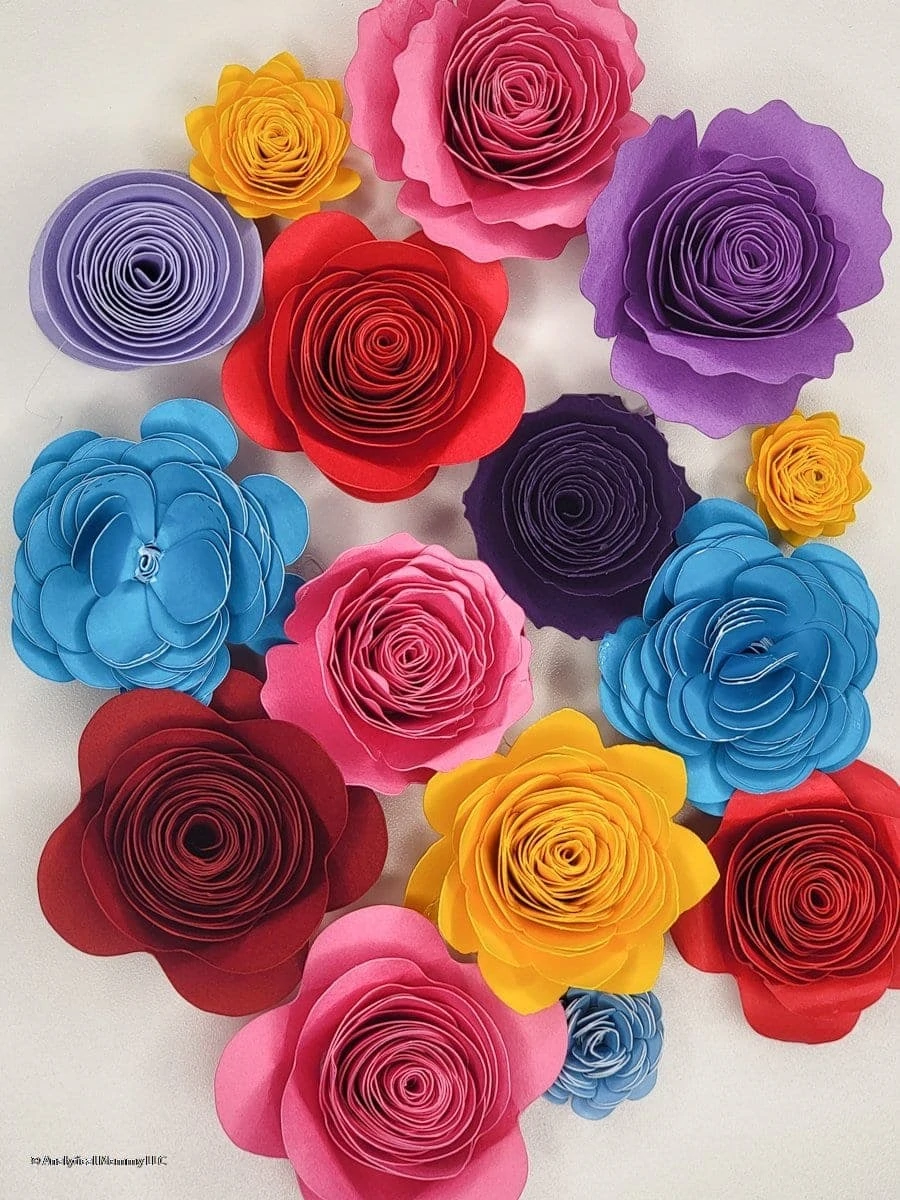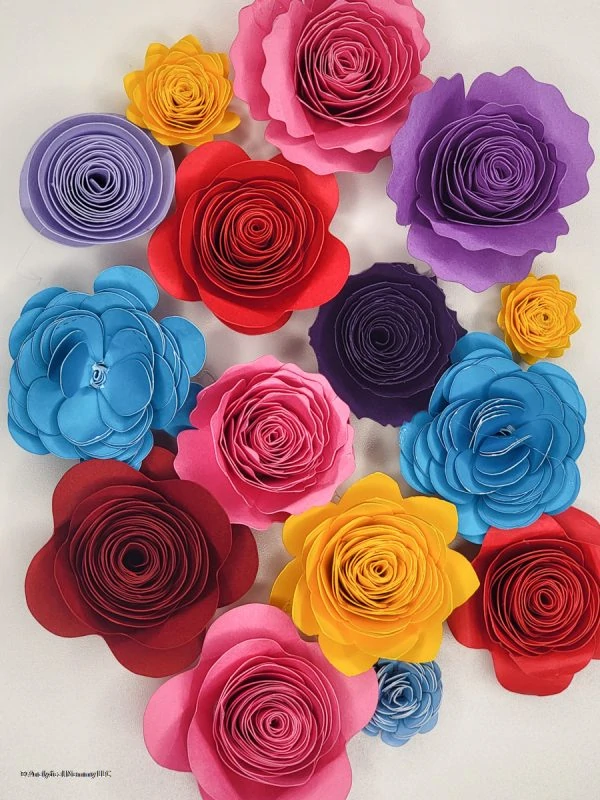 In this Cricut craft, we'll make Cricut 3D flowers that are beautiful, bright, and unique. You can easily change up the colors for the flowers to change out the entire look. These are perfect for fun gift ideas like this floral picture frame, toppers for presents, making a Cricut paper flowers shadow box, and more. Whatever you want to use them for, you absolutely can!
One of the very best things about this fun Cricut project is that it's really not hard to do. It might look elaborate and fancy but you'll have the steps down in no time at all. Watch my step by step video tutorials in this post to see just how to make them!
Ready to get started? Let's dive right in and answer some of the most common questions when it comes to making these paper flowers and then we'll go through it step-by-step!
Do you need a quilling tool for these Cricut flowers?
You don't need a quilling tool to maker paper flowers but they can help you get the flower started more easily. In my Floral Picture Frame craft (which is absolutely perfect for Valentine's day) I have a video tutorial and in it you can see how I made the flowers without a quilling tool.
That said, if you're going to be making a lot of paper flowers, or want to be able to make them especially quickly, having a quilling tool can be helpful! In my paper flower tutorial below, you'll see how I use a quilling tool when I choose to use one. It might be a bit different than how you've seen others use it!
Can you make paper flowers without a Cricut?
Yes! You can still make these beautiful flowers 100% by hand and I'll walk you through it!
That said, if you are interested in getting a Cricut or just curious, I've written the most detailed review of the Cricut Explore Air 2 machine you'll fine! This review should help you decide if the Cricut Explore Air 2 machine is right for you and if so, how to get the best value!
In the meantime, here is how to make 3D paper flowers without a Cricut machine:
Rolled Paper Flower Stencil Method:
Download my free paper flower templates.
Print out the PNG file for template #5.
Cut that template out – this is your stencil.
Use your stencil on your paper of course. Trace it and then cut the new shape out.
Roll and glue your flower as you would if you had a Cricut. Check out the tutorial below.
Rolled Paper Flower Cut Out Method
Download my free paper flower templates.
Print out the PNG file for template #5 – the one that says outline. Print it to the paper you want to make the flower out of..
Cut that template out – this is going to become your flower
Roll and glue your flower as you would if you had a Cricut. Check out the tutorial below.
If you want the flower to be a specific size, you'll need to resize the PNG file in any photo editing software. Want to add more detail to your paper flower? Use these scissors to create a fun and decorative edge that looks more like a flower petal!
What kind of flowers can you make?
You can make just about any flower and there are so many templates to choose from! There are even some you can buy on Etsy!
I've made a few flower designs and you can download them for free here! Here's a sneak peak a few of the types I've made available so far but I'm working on adding more so be sure to check back often!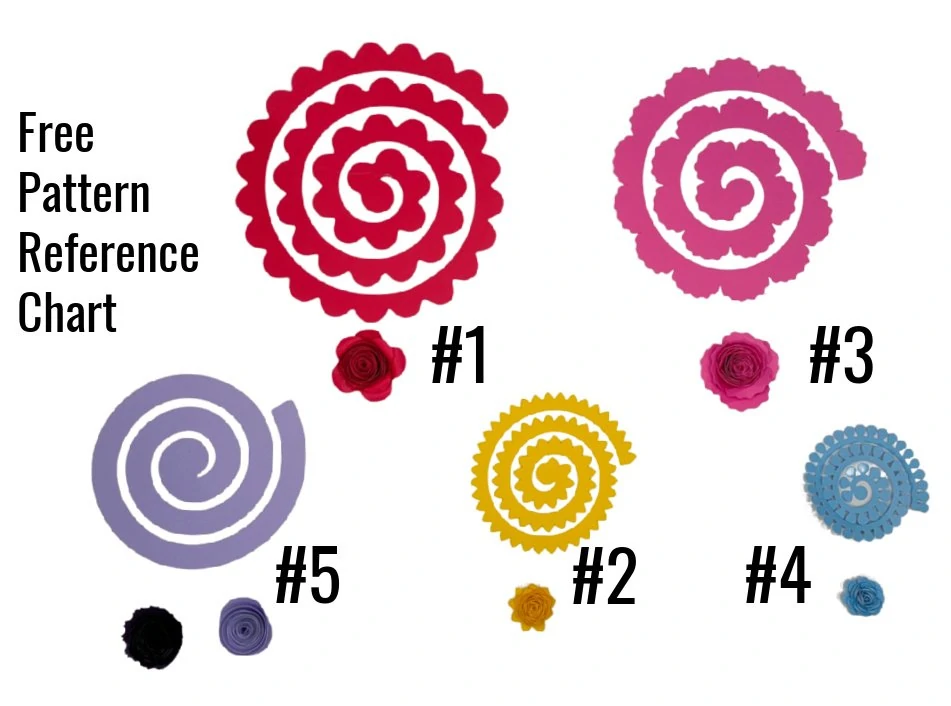 Get My Free Flower Templates
Just fill out this form to download them (and as a bonus, you'll also get access to my whole resource library!) Get the free Cricut paper flower template below. You're going to love these free Cricut paper flower SVG files!
Don't have a cricut or have something else? I also include PNG files!
Cricut paper flower size guide
How big do you need to cut your flower SVG to get the final flower size you want? It's actually pretty simple! Your final flower will be roughly 1/4 of the size after you get finished rolling it. This means that if you size the pattern to be 4″, it's going to end up making a 1″ flower.
In the image below, the unrolled flowers range from 3 to 7″. You can see each rolled flower below it to get a sense visually of how big each becomes.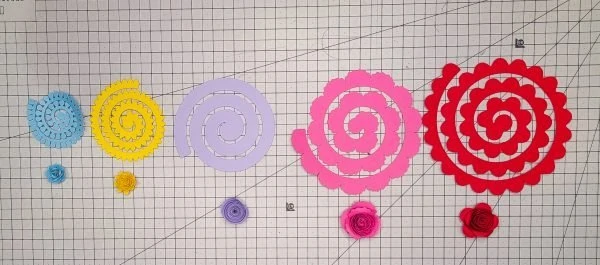 Keep in mind though, that this won't be 100% exact because it depends on how tightly you roll your flowers. Everyone will roll them a bit different – that's the beauty of handmade right?
In the picture above, I rolled the flowers fairly tightly. I do usually prefer to roll them loosely though so my usual flowers will end up a bit bigger than 1/4 of the size. Watch my video below to see how and why I usually roll them loosely!
Here's an example of two flowers that were cut to the same size but one was rolled looser than the other. They are the same flower patter, started out as the same size, but one is much larger than the other. Just keep this in mind as you plan your sizing.
Supply List
Best cardstock for Cricut paper flowers
The pest cardstock for paper flowers is cardstock that's 65lbs or less. You don't want to go heavier than that or your paper won't roll nicely and it will be really difficult to get that "just bloomed" effect.
I have made paper flowers out of just about every type of cardstock I could get my hands on and they all worked great but I noticed that as I got to stiffer and stiffer cardstock that it became more delicate.
You could even make them out of paper really!
Ideally you want paper that has color on both sides and you could go with solid or patterned paper! In my spring centerpiece project,
I used some solid pastel paper but also used a lot of sheets from the a watercolor patterned paper and they came out beautiful! It is unfortunately one sided so it works best for crafts where you wouldn't see the underside of the flower. It was too pretty NOT to use though!
Tip: If you decide to use a type of paper that isn't color on both sides, and you don't want the white to show, use paint, marker, or colored pencil to add color to the back of the paper so it's not just white! It doesn't need to be perfect… just a little color will go a long way!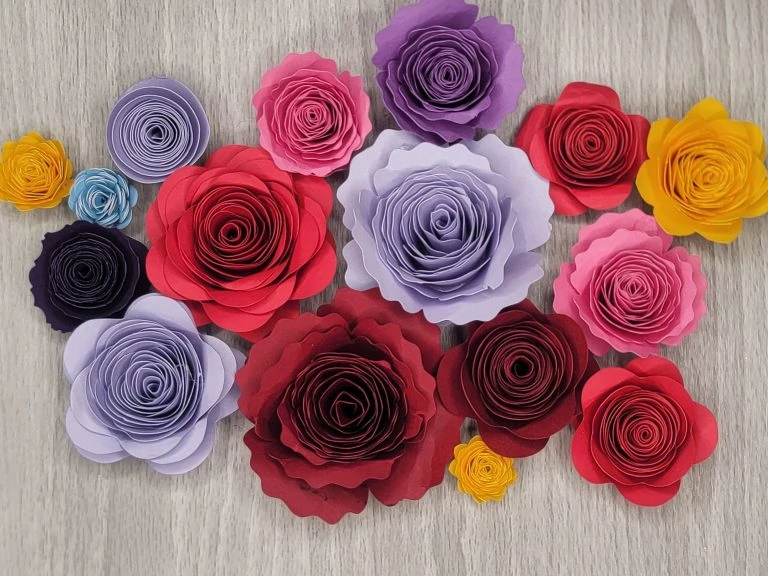 How to roll cricut paper flowers
At the very center of the spiral you will see a circle. This is the base of your flower.
To make your cricut 3d flower, choose from one of my free flower templates (below) that speak to you and draw you in! You want to roll your flower from the outside in towards you until you get to the little flap.
Then loosen your flower. If you want a really tight flower bud, you can leave it tight, but if you want more of a bloomed flower look, you can actually let go of your flower completely and then readjust it. It's up to you and your taste!
Now on to how to actually assemble your cricut paper flowers… this part is the easiest! Just as a drop of hot glue either on the flap or on the very center of your flower (the underside). Then connect the flap to the center of the flower and let it cool!
You might notice that the flower is a bit loose but that's okay. Once the hot glue is dried, it's not going anywhere!
How long will these Cricut Paper flowers last?
They literally last as long as you want them to. Keep them away from moisture or direct sunlight and they'll last forever. That's just one more reason to love these simple flowers.
You don't have to take care of them, maintain them, water them, weed them, or really give them a second thought at all.
Cricut paper flower craft ideas and projects
Use these papers to really express your creativity. There are so many unique ideas for using paper flowers – the sky is the limit! They're a great addition to any gift bag or package that you're giving to others.
This simple Cricut flower DIY is great for decorating frames, making shadow boxes, creating beautiful centerpieces, and more. I've made several shadow boxes and centerpieces using this activity and they always turn out stunning.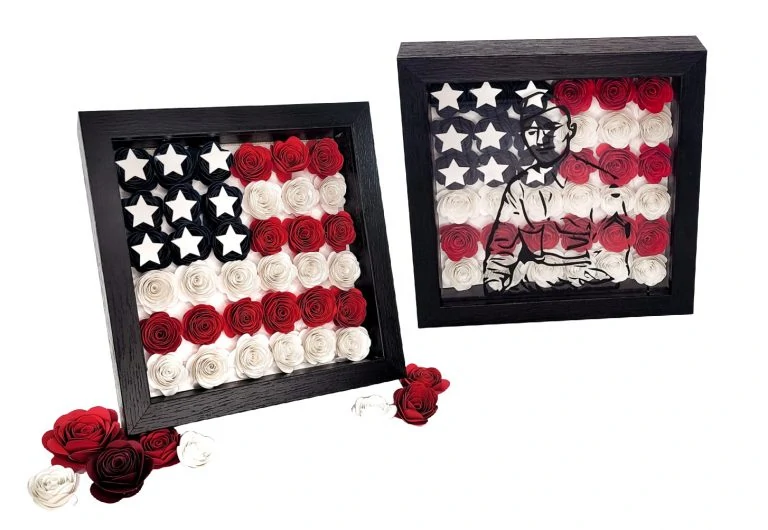 Another simple way to these Cricut flowers is to make a bundle of flowers and deliver them to a friend. This would be a super cute idea for Valentine's Day and Mother's Day and a great way to give the gift of flowers in a true DIY fashion.
Don't forget to change up the colors of the paper that you're using to match the holiday seasons as well. Black and orange flowers would be super cute for Halloween fun as would red and green flowers for Christmas decor, too.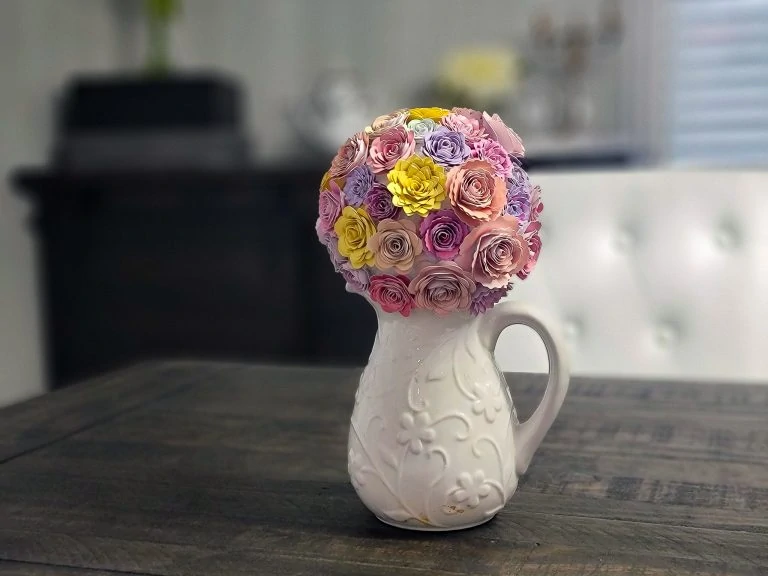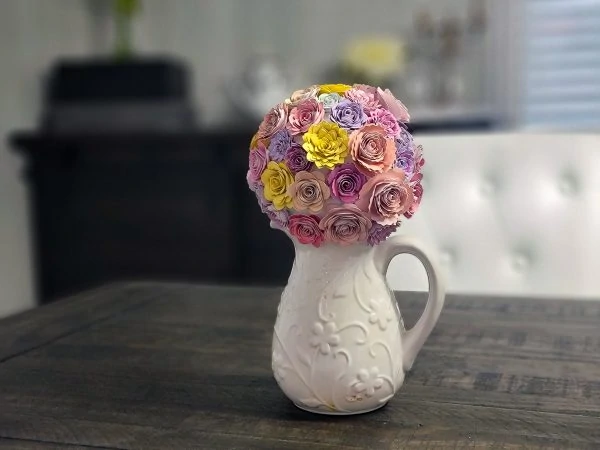 This is also a really fun craft to make with the kids as well. They'll learn how to follow directions and work on their fine motor skills of rolling the flowers as well. (Just make sure to do the hot glue step for them!)
And once they're done, they'll love having the finished project to show off to everyone!
How to make a Cricut Paper Flower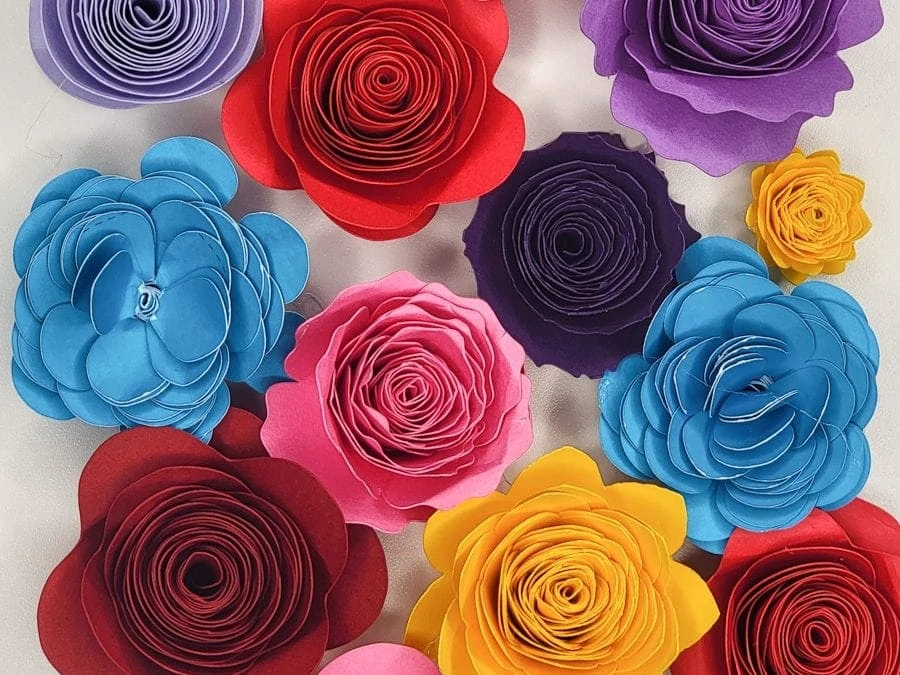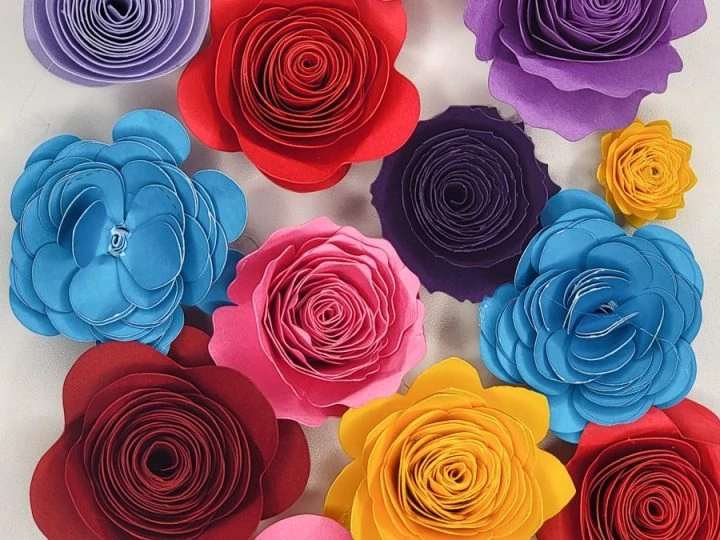 How to make a cricut paper flower
The only guide you'll need to making cricut paper flowers! Plus a step by step video tutorial!
Materials
Instructions
Pick your cardstock
Choose your paper flower template (Get my free paper flower templates here)
Load the paper flower SVG of your choice into design space
Size your flower in design space. Keep in mind that your flower will end up roughly 1/4 of the size you choose (though that really depends on how tight you make it)
Cut your flower template by following the usual prompts in design space
Remove your flower from your mat carefully
Plug in your hot glue gun so that it's ready when you need it
Using your fingers or a quilling tool, roll your flower starting from the outside in rolling towards you.
Once you have rolled the entire flower and get to the center, fold the circle that's at the center back. This is the base of your final flower
Loosen your flower based on your personal taste. You can even completely let go of the flower at this stage. That's fine. Once you have the flower arranged the way you'd like...
Add a drop of glue to the very center of the flower (on the bottom) or to the flap.
Fold the flap over so that it attaches to the base of the flower. Make sure that it adheres to the very center of the flower. That's the part it needs to hold in place.
Let the glue cool.
(Optional) Curl the petals outwards to make the flower look like it has bloomed.
Notes
Tip: The looser the flower the more bloomed it will look and the easier it will be to curl your petals outwards!
Recommended Products
As an Amazon Associate and member of other affiliate programs, I earn from qualifying purchases.
Make certain to check out our other great ideas as well. We're always creating something fun!
More Fun Ideas
Pin to Pinterest