Createroom DiviDrawers: How to Decorate, Liner Templates, and Frequently Asked Questions
Post may include affiliate links. We may earn a fee if you use them at no cost to you. Disclosure.
Createroom DiviDrawers are the best! If you're looking for a new and improved way to organize your Dreambox or other Createroom Products, you're not going to want to miss out on these! This post will answer all your Createroom DiviDrawers questions and help you decide if the DiviDrawer upgrade is right for you!
While they still offer a lot of the same functionality as the Inview Totes, they're improved in so many new ways!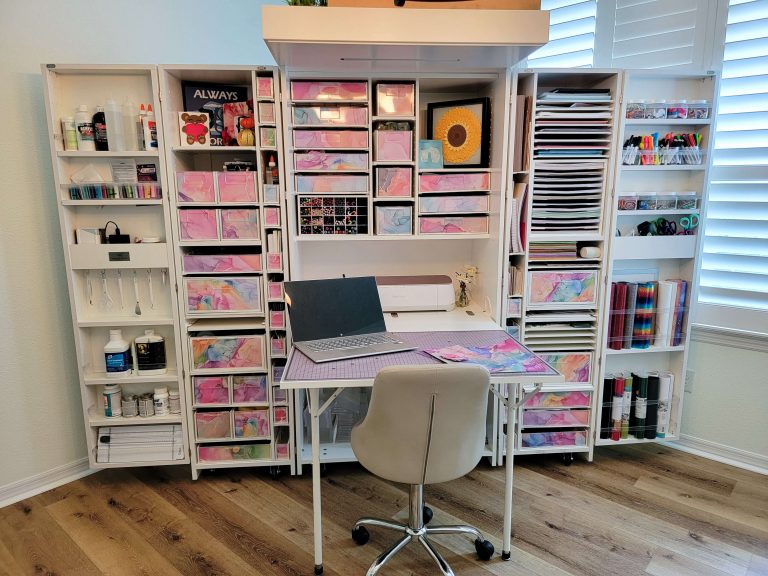 You know that I'm a Dreambox fanatic, and I think after reading this, you will be as well! If you're new to the world of Dreambox, welcome! You're about to enter a world where everything from craft supplies, to office supplies and even school supplies and kid arts and crafts have the perfect space and place to be. Check out my TOP Reasons You Should buy a CREATEROOM Dreambox + COUPON! for all the details if you're new to this world!
Be sure to also check out my Frequently Asked Questions about the Createroom Dreambox Answered so that you know all the information as well! Being educated before purchasing is important!
Before we get into all the Createroom DiviDrawer details, here's a little bit about the Dreambox in case you stumbled upon this post while research Dreambox options!
Quick Links to Information in this Post
What is a Dreambox?
A Dreambox is your crafting supplies storage solution but it's also so much more than that. In our house, it's literally where we work, play, and store everything that we possibly can.
The Dreambox has so much functionality and uses in our house – far beyond just a crafting space. The kids can do their homework there, I can sit and work, and we can use it for so many different things. It's also where I design, create, and record so many of my craft projects you find on this blog!
FREE GIFT! When you use my code to buy a Dreambox, you'll get my Dreambox Organization Hacks & Guide, Dreambox Planning Workbook for FREE! To get these gifts just use code CREATEMOM and then email me your Create Room order number!
What is a DiviDrawer
A DiviDrawer is literally just like it sounds. It's a new option to be able to have a "division" in the drawers of the Dreambox. You'll find that a Dreambox is all about making your space easier and more functional to use.
There are colors, styles, shapes, and sizes to choose from – and all are created to keep your storage and supplies more organized.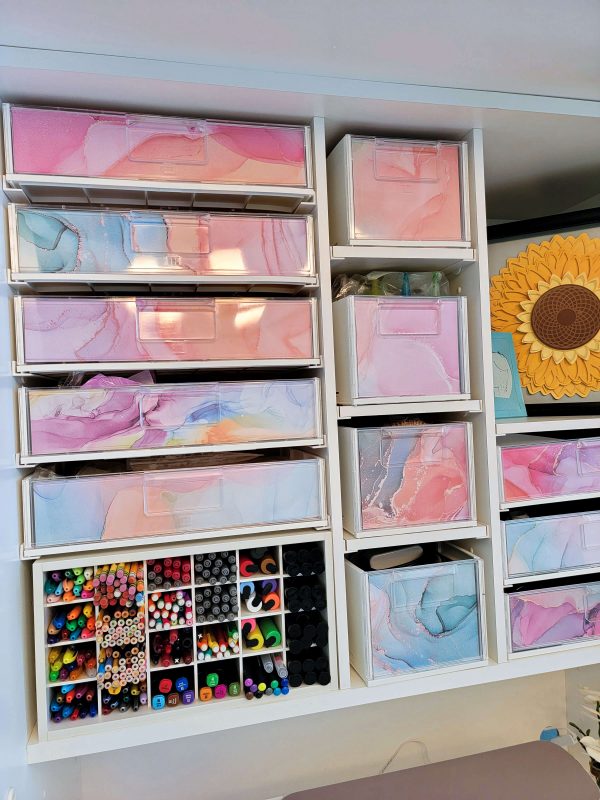 What's the difference between the DiviDrawers and the InView Totes?
There are obviously some similarities but also many differences that really make the DiviDrawer the superiod choice in many cases!
The DiviDrawers only have one clear side, while the Inview totes have clear sides all around.
You'll also see right away that the DiviDrawers have a slot for paper and labeling and offer 90-degree corners as well. The Inview Totes on the other hand have angled sides and no slot for "tote covers". There are still ways to add Tote Covers as shown in this blog post, but it's definitely not as convenient or seamless.
DiviDrawer comes in four sizes, while Inview totes only have three sizing options. You have lid options for ALL sizes on the DiviDrawer as well.
One other huge difference is that the DiviDrawers are stackable, even without lids, while the Inview totes are not.
And then there are the dividers! The InView Totes had some dividers but with the DiviDrawers you can REALLY split up all of your DiviDrawers!
If you're not a handy person, just note that you don't have to assemble anything with the Inview totes, but there is assembly required with the DiviDrawer. That said, assembly is super easy!
To learn more about the differences, check out this post on Createroom's website!
Is the DiviDrawer Upgrade Worth It?
Yes! I love that the straight edges allow for more storage, and they just look so much cleaner. I also feel that they're easier to decorate with their clear display font, liner insert and label space.
I also love that there are so many ways to break up the DiviDrawer with the dividers – an option you can't get with the InView Totes!
What's Included In Each Package?
Below is what will be included with every package. I recommend doing an inventory right when you get the items so that you know if you're missing something or not. If you do find that you're missing something, just call customer service! They are AMAZING!
Lay everything out on the floor and count all the pieces. Below is what should come in a FULL DiviDrawer package.
XL DiviDrawers (4)
4 bases, clear faceplates and colored faceplates
4 short dividers
6 long dividers
Large DiviDrawers (26)
26 bases, clear faceplates and colored faceplates
30 short dividers
30 long dividers
Medium DiviDrawers (20)
20 bases, clear faceplates, color faceplates
48 short dividers
16 long dividers
Small DiviDrawers (27)
27 bases, clear faceplates and 27 colored faceplates
78 short dividers
You should also get 118 tracks and a cute mallet!
Half set is also available. Click the link below for the details.
How to decorate the DiviDrawers – making Dividrawer Liners/Covers
The great thing about DiviDrawers is that they've made it easy to personalize and decorate. You can choose to have your colored faceplate facing out, add a liner to the clear faceplate and make it your own, or have the clear faceplate facing out if you like to see what's inside!
To make the decorative liners, I have a few SVG options that I think will work out great! You can cut these by hand and I'll get to that in a moment, but if you have a Cricut, these SVGs will save you a ton of time!
LARGE, MEDIUM, AND SMALL.SVG
This will cut large, medium, and 2 small liners on one 12×12 sheet with some parallel and some slant. This works best for solid color paper but can also be used with pattern paper if you don't care about the pattern direction.
LARGE AND SMALL ON SLANT.SVG + MEDIUM ON SLANT.SVG
If you can about the direction the paper design is on and want them all angled the same, then use these two files. Unfortunately, I cannot fit all three sizes on a 12×12 sheet on a slant, so you'll have to use two different files.
Extra Large DiviDrawer Liners
Since the EXTRA LARGE drawers need a liner that's larger than a 12×12 sheet, we need to be a little creative because 12×12 is the easiest size to get. Here are a few templates I created that you can choose from
Method 1: EXTRA LARGE (FULL SIZE) – RESIZE TO 13 INCHES.SVG: this one is for use on a 12×24 sheet of paper and will cut the full liner in one go! Unfortunately, many pretty patterns don't come in 12×24, so if you have a pretty pattern, use option #3.
Method 2: EXTRA LARGE – half.SVG – This will cut half the liner, and you can then tape two pieces together to make 1 full-size liner.
Method 3: EXTRA LARGE (Version 2 – Inner) SVG: This will cut a liner that's a bit smaller than needed but will fit on a 12×12 sheet. You'd cut this in your favorite pattern and then cut a full size (option #1) on a solid color you can get in 12×24. Then glue the inner piece and the full-size piece. I did a pattern with a white backing – this makes your full-size sheet like a frame around the inner piece.
Here's how to use the tote liner templates (if you're skilled at Design Space, just skip to step 11!):
How to cut DiviDrawer tote liners
Making these tote liners is a simple and easy process. Follow the simple tips below!
Tools
Cricut machine
Cricut mat
Instructions
Sign up for access to the resource library and download file C19
Save the file to your computer
Unzip/Extract the file you just saved
Open Design Space
Click "New"
Click "Upload"
Choose "Upload Image"
Select the file Tote Liner/Cover version you want to use (see section above that explains what each file is for - especially the XL size)
Click "Upload"
Select the image you just added and then click "Insert Images"
Check the size. Sometimes Cricut Design Space changes the size of files when they upload. For all but the "EXTRA LARGE (FULL SIZE) - RESIZE TO 13 INCHES.SVG", the square should be 12"x12". If it's not, select all and then resize. For the "EXTRA LARGE (FULL SIZE) - RESIZE TO 13 INCHES.SVG", check that the square is 13"x13". If it's not, resize.
Now "ungroup" the parts and then delete the square.
If using one of the files that cuts more than one cover at a time, select all and click "Attach" on the bottom right (so that all pieces will cut at once on one sheet)
Place a 12×12 cardstock on your Cricut Mat
Click "Make It"
Follow the regular prompts making sure that you have your machine set to cut your cardstock!
Frequently Asked Questions About the Createroom DiviDrawers
How many boxes do the DiviDrawers come in?
My full set of DiviDrawers came in in two boxes so make sure you have both before you start assembly! I would assume that the half set comes in one box.
Do the DiviDrawers come preassembled?
Nope! You will get a Createroom branded mallet with your DiviDrawer order that will help you put them together. It will take some time to do this so be prepared to put on some music or a great movie before you get started! The assembly is not hard though – just takes a little time but I absolutely think it's worth it!
What colors do the DiviDrawers come in?
As of when I'm writing this, the colored faceplates come in Pure White, Sage Green or Mineral Blue. I have the Pure White and I'd call them more of an ivory. They are beautiful!
Can you Cut Tote Liners without a Cricut Machine?
You can still make liners without a Cricut machine. Just handcut paper according to the sizes listed below by hand.
What are the sizes of each DiviDrawer faceplate liner?
XL 12.30 x 5.90 in
Large 12.30 x 2.70 in
Medium 5.60 x 4.60 in
small – 3.1"x3."
How do you label your DiviDrawers
The DiviDrawers come with a new perfect spot for labels so adding labels is so fast and simple to do! The size of the label area on the new DiviDrawers is 3.1″ x 1.3″. This is a pretty decent size making it easy to read from far away.
If you want to learn more about the Dreambox ready my review and take full advantage of the coupon code! CreateRoom DreamBox Review + Coupon!: How To Organize Your Craft Room
More Dreambox posts