These Best Fire Pits for Decks Will Warm Your Heart
Post may include affiliate links. We may earn a fee if you use them at no cost to you. Disclosure.
The best fire pit for your deck can create a beautiful and interactive outdoor environment to enjoy year-round. Modern fire pits can be wood or gas (propane) burning, with or without lids. Fire pits keep the fire contained and elevated, so there's no risk to your patio and home if used correctly. And you can use deck fire pits for cooking food and s'mores or as regular tables.
I've picked the most amazing fire pits for decks in various styles – tall and short, circular and rectangular, hooded dome or fitted plate cover, and gas or wood-fueled.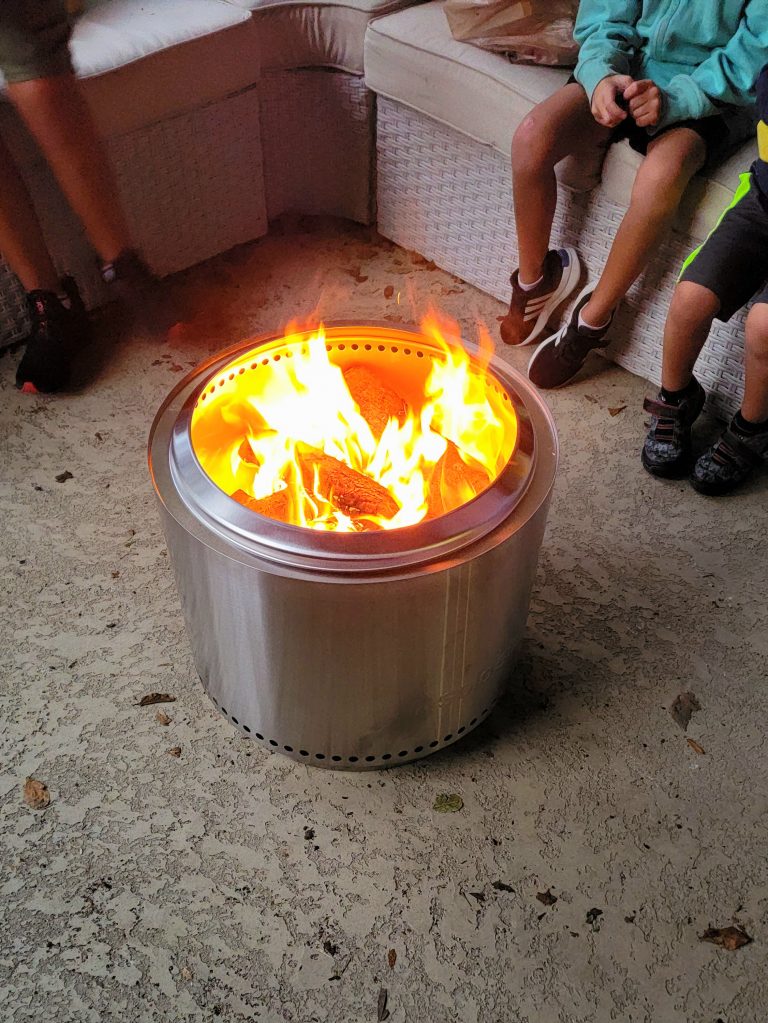 Quick Links to Information in this Post
What to Look for in a Firepit for Your Deck
When shopping for a firepit for a deck, there are a few shopping criteria to compare and consider before making a decision.
The first thing to decide is what type of heat source you want to use – wood or gas. You'll also need to determine the size of your firepit, both physically and with the heating element. Next, the BTU will tell you how hot a gas fire pit can get.
Fire pits also come in a huge range of sizes and styles. For example, you may want a portable or compact firepit, one that doubles as a table or that you can use for cooking. There are models of each of these and more.
Best Fire Pits
I love each of these interesting fire pits for outdoor decks for their aesthetic, performance, and functions. Some of them also come with accessories that improve the safety and usability of the fire pit on decks.
With over 17,000 5-start reviews, the Bonfire 2.0 smokeless fire pit is a legend. I'd consider it the best all around fire pit for decks that ALSO happens to be smokeless!
It has an optional stand that lets you use this firepit on even more surfaces like grass which your can't safely do with most fire pits! (Find out if the stand will help you here)
It's highly portable, produces a ton of heat, contains the fire well, is easy to clean, is modular and of course smokeless!
Since tthe Bonfire 2.0 doesn't produce smoke like other fire pits you can sit around the entire fire pit without your eye beginning to burn or disturbing your neighbors! It comes with a carrying case making it easy to take anywhere or just move around.
And you can get all sorts of add-ons like the surround which adds a table-like edge and helps keep kids away from the fire, cooking tops (like a cast iron grill, griddle and wok), heat deflector and more! This makes the Solo Stove Bonfire 2.0 amazing for everything from cooking whole meals, to hot dogs, smores or just warming up.
Thank you Solo Stove for agreeing to sponsor this post!
A compact 24" tall, wide, and deep octagonal metal firepit can be the perfect solution for a deck made of wood, Trex, or composite materials. The octagon base provides stability, while the metal structure has a small grid of metal small-grid wrap around a large diamond pattern frame. A low-dome octagon iron lid protects the wood fire and traps the flames for safety.
This 28" wide and deep, one-foot tall concrete bowl fire pit can be used for aesthetics and function. A lava rock filling surrounds the centered propane-fueled 50,000 BTU metal burner for a soothing flickering orange smokeless flame. The Envirostone exterior protects from all outdoor dangers in a lightweight base with an included cover.
This complete wood-burning pit proves that the best fire pits for decks are for multiple uses. You can get three contemporary stylish designs and sizes from 26" to 32". The tile border provides a space for using the pit as a table. And the screen over the middle of the wood-burning pit keeps sparks contained for safe fires on the deck. Removing the screen gives you access to the open flames for roasting smores. It also has all the accessories you'd need, including the best fire pit mat for wood deck and log poker.
This compact 26" wide, 20" tall, 20-pound wood-burning firepit for decks offers easy portability and simple setup, making it great for camping, tailgating, or backyard decks. The round shape makes it easy for everyone to gather around, and the included mesh screen prevents the escape of loose embers. A large lower shelf holds wood, and a side hook holds the extra-long poker. And it also has a wire grate grill for roasting hot dogs and other foods.
This 25" tall, 28" deep propane-fueled steel tabletop has a neutral rattan wrap and a 28" or 32" tabletop with a rattan inlay. A snug pit lid covers the centered fire pit filled with lava rocks so you can have a full table. Or you can remove the lid to gather around the volcano-inspired fire pit that heats to 50,000 BTU with an external button control operation for the perfect fire pit table to use on decks.
Propane or Wood – Which Fire Pit Type is Better for Decks?
Either firepit fuel source can be appropriate for deck use if you use safety precautions. However, propane – a gas source – has several advantages over wood.
Gas fire pits are smokeless, which is better for people with allergies or sensitivities to smoke and ash. Propane also burns cleaner, with 99% lower emissions and 95% more energy efficiency than wood pits, which release nearly 30 pounds more emission pollution peruse.
But wood is a renewable resource. Wood can also be easier and more affordable (if not free) to acquire and is more readily available. However, it is harder to maintain, clean, and keep free of ash, soot, and wood debris.
That's one of the reasons I love the Bon Fire 2.0 so much! It's a smokeless wood burning fire pit that's also super easy to clean up that's to its ash tray!
Tips When Using a Firepit on Your Deck
Fire pits make it safer to enjoy a warm crackling fire without being on the ground, making it a great choice for people who do not have access to a yard.
But there are safety tips you should use to ensure your firepit remains safe. The first tip to remember is to ensure clearance from the flame. The specific regulations can vary by location, but a good rule is to provide 36″ on every side and 80″ overhead clearance to prevent fire hazards.
You'll also want to consider the fire pit's weight and your deck's weight capacity. For example, metal pits that burn wood can weigh more than propane fire pits for deck use.
And for fire pits placed on decks, you may want to add an extra safety precaution by putting a non-combustible material underneath to prevent contact with the wood. A rubber mat is the most simple method of protection if you don't want anything heavy. The Solo Stove Bonfire 2.0 has a great stand just for this purpose!
Accessories You Will Need with Your Deck Fire Pit
If you're investing money in a deck fire pit, a few accessories can come in handy to make your fire pit safer and last longer.
A deck protect fire pit pad or stand is essential for going under a fire pit to prevent heat and fire from the pit from transferring to and potentially damaging your deck. And to protect the top half of your fire pit, you may also want to purchase fire pit spark screens/shields, which keep embers and ashes inside the pit. And a fire pit cover will protect your fire pit from the elements when you're not using it.
Deck chairs give you a comfy place to sit around the fire. And a fire poker helps shift logs in wood fires for better fire control.
FAQ About Using a Fire Pit on Your Deck
Can a Firepit Damage Your Deck?
As long as you use a firepit that keeps the fire contained safely and elevated off the wood structure, it can be safe to have a pit on your deck. A fire should never be started directly on a deck without protection underneath and on the sides. Always follow your fire pit's manufacturer instructions and best judgement.
What is the Best Material to Put Under a Fire Pit?
The best materials to put under a firepit are non-flammable insulators. You don't want to transfer heat from the fire pit to your deck.
Fire Pits for Decks Can Be Fun and Safe
We've provided six diverse fire pits for decks to demonstrate how you can incorporate a deck fire pit into your home landscape. Your preference for a wood-burning fuel source over a gas fire pit may limit your design choice. Other factors can be the size and condition of your deck, the deck's weight capacity, and your style preferences.
More Outdoor Posts