Introducing Bark – The Best of the Best Safe Phones for Kids
Post may include affiliate links. We may earn a fee if you use them at no cost to you. Disclosure.
As parents, we must make many important decisions to keep our kids safe. One of the biggest concerns we face these days is when to give our children their own phones. And we worry how to keep them safe with their smartphone use from online dangers without invading their privacy.
While you can install a parental control app on all mobile phones using an app store and a program like Bark (which I've reviewed here), you can also purchase a smartphone with built-in safety features like the Bark Phone. This kid-friendly phone is a great option to give you peace of mind while allowing your younger children or older kids to have their own phone.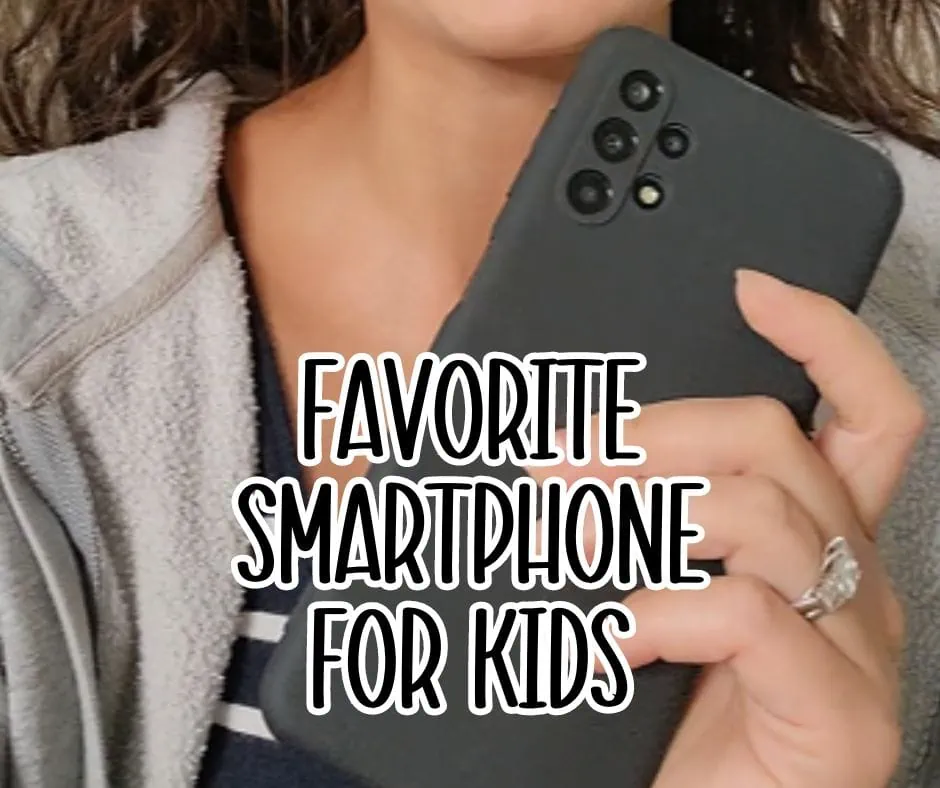 In a rush and want to know if you should keep reading? Here a TL:DR version of my review… One of the things that interested me the most about the Bark Phone is that it can literally evolve with your kid. Begin by having it locked down to the most basic of features – like talk, text, and camera… then unlock features as your kid matures until it's like any other phone (just with parental monitoring installed). This is a great option if you want the flexibility to have a phone that can evolve OR you're not super tech savvy and want something super plug-and-play. Want to know more? Keep reading!
I've tried a few different monitoring services to keep my children safe with their cell phone use. While other services were okay, Bark has been my overall preference. And here's why.
Quick Links to Information in this Post
What Makes a Safe Phone for Kids?
While I've been using the Bark app on my kids' phones for a bit and we're already set up with phones (that aren't fully paid off yet!), I did have a great opportunity to try out and review the Bark Phone. If I didn't already have phones for my kids, the Bark Phone would be a real contender for my 9 and 13 year old (and even my 5 year old when the time comes).
Cell phones give you the power of the world at your fingertips. You can find anything you want to know with a simple online search. And unfortunately, that means that with this same internet access, your child's phone can reveal their personal information, and they can find inappropriate adult content.
There is so much out there that we want to keep from our children. And the last thing that parents want to worry about is the activity on your kid's phone. The good news is that some new phones have built-in privacy settings that limit activities, such as online searches, social media platforms, and screening text messages.
Phones dedicated to younger kids should have less advanced features, like phone calls and basic text message capabilities, but no internet access. Often parents opt for very low tech phones or "kid phones" but these often don't work well – they don't usually have the parental supervision options you want or kids hate them because they look like toys and aren't "cool".
Getting a phone that has the level of control most of us parents need, the features kids want, and the option to evolve over time is hard – but that's where the Bark Phone really shines.
When choosing the best cell phones for your family's needs, a good option is to look for these parental control feature options:
Screen time limits
Basic texting monitoring
Location tracking
Blocking or screening specific programs and social media apps
Vocabulary and slang notifications
Contact blocking
So with that – I've probably teased Bark enough, let's get into it!
Why Bark?
Bark is a parental monitoring service that allows parents to keep track of their children's digital behaviors while on technical devices, whether it's through their cell phone, tablet, computer, gaming console or just about anything else connected to the internet. Personally, we use Bark on our kids' phones, tablets, computers, and TV.
Bark has helped protect over 6.8 million children and detected over 1.4 million severe self-harm threats and 3.3 million serious bullying cases. Bark monitors 30 apps and content for dangers like bullying, adult content, suicidal or depressive thoughts, predators, and more. It also blocks websites or apps, tracks your child's location in real-time, and sets custom screen time schedules.
Parents receive notifications of flagged information and snippets of the conversation, so you can decide whether it's something you need to handle or ignore. Bark even provides advice about how to talk to your kids about the issues it flags!
What is the Bark Phone?
Besides the Bark monitoring app that installs on all of your child's devices, there is also the Bark Phone. The Bark Phone is a Samsung A series.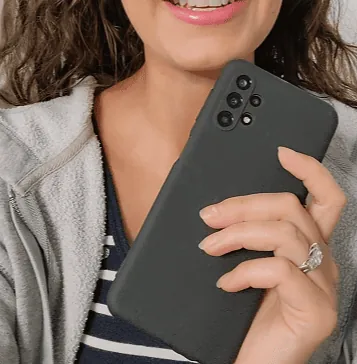 Plans start at $49 a month and you receive all the perks of Bark Premium, plus a smartphone with wireless service.
The phone itself comes with Bark's trademark monitoring tools that scan the phone's content, including texts, social media, emails, and installed apps. If anything concerning occurs on your child's phone, you receive an alert detailing the information.
Because the Bark features are "baked into" the phone itself rather than being overlayed on top by installing the app, the Bark Phone gives you significantly more features than any other available app could. It's like building the exact house you want from scratch, rather than trying to turn an existing house into the exact house you want without being able to move any walls. You just can't do it. If you want the most parental control options – the Bark Phone is right for you.
Pricing
Bark offers families two convenient options for purchasing the Bark Phone — choose between $0 down and a 2-year contract or $199 down with no contract. Once you decide on your purchase option, you will then be able to select a data plan that fits your family's needs best.
The basic plan gives you unlimited talk and text every month, but you only get internet access through Wi-Fi for $49/monthi. You can get 4 GB of data, along with unlimited text, and talk for $59. Or spend $69 a month to get unlimited talk and text with 8 GB of data. You can get unlimited everything, including data for $89 a month.
However, if your child exceeds 35 GB of data, the speeds slow to the rest of the bill cycle that month. And data speeds and connections can slow further or turn off completely after 50 GB a month until the next bill cycle.
All plans come with a Premium subscription that you can use for the entire family, including other devices, kids, and accounts. The Premium subscription costs $14 a month and allows unlimited accounts and devices, app and website blocking, location alerts and check-ins, custom time schedules, potential danger alerts, and app, text, and social media monitoring.
Parental Controls
On the inside of a Bark Phone, you get the most robust protection and customizable parental controls that adjust to your child's maturity level. I love that this phone grows with my child while allowing me to set what I want my child to access.
Because the controls are built into the phone, there are some extra features that you can't get just by installing an app. For example, your kid won't be able to delete any text messages without your permission!
And there are several additional features with your child's Bark Phone. Not only is there exceptional monitoring of your child's online features. But it also has GPS location tracking, contact management, call blocking, and monitoring of all texts, social media platforms, and over 30 different apps.
Plus, Bark scans the phone's contents for concerning content and sends you alerts so that you have insight into your child's online world.. It can also prevent deleted text messages, changing your parental controls, or downloading VPNs to get around the controls you set.
Safety Features
Bark believes that protecting your child and their privacy should be simple. That's why you don't get access to all of your child's digital literacy content. You only get to see your child's texts or searches if there is something in the content that flags an alert.
The Bark Phone will monitor your child's downloaded apps, web searches, text messages, and social media accounts for dangers and triggers. It gives you the option to block apps and websites that you as the parent might think are harmful, including unknown apps and sites. You can also control what games your child can play, like Minecraft and Fortnite, through their app download approval feature.
You can also track your child's location, with real-time updates on a map for easy visualization. What I really love about the location tracking feature is that you get detailed directions for how to reach your child if you need to get to them in a hurry. Or if you want to know exactly how far away and what area they are in.
You can easily track what apps your child has installed. And if your child tries to download an app, you get a notification in your parent portal. It lets you set yes or no with a simple toggle button. In addition to the name of the app, you can also see the app's rating and any warnings that may come with it.
If you want to control when your child can and can't use their device, set custom boundaries with dedicated times like school time, bedtime, and free time. You can set the time frame or time limits for each app. Or you can remotely lock your child's phone when you want to give your child a break. You can set a time that access comes back on or you can set it to automatic resuming.
You can see a list of contacts and calls that your child gets, and it even tells you where the number came from – saved contacts or an app. Then use the toggle button to allow or prevent contact with each phone number.
It can even monitor the music your child listens to and send you lyrics that contain flagged phrases – even lingo and slang!
Ease of Use
The Bark Phone is easy to use for kids of all ages. The Samsung A series comes with the Google Play store installed, where your child can download apps.
But the parental controls give you the option to allow or block access to the app store. Or you can give your child permission to download certain apps or block whatever ones you think aren't appropriate for your child's age. It's as easy to allow or block app access as toggle a button off or on.
Is a Bark Phone Right for Your Kids?
The Bark Phone can be a great way to give your child extra freedom with a cell phone while respecting their privacy by not having to snoop through their phones. You only receive an alert when there's an issue. And you can control what they can access or cannot, on a timeframe that suits your child's schedule. It even gives you the ability to track your child's location, so you always know they're safe.
Does your child already have their own smartphone that needs monitoring? Check out my review of the Bark parental control app instead. The Bark app works with all the best phones on Android and iOS devices. There is also the Bark Home monitoring system.
Frequently Asked Questions AboutThe Bark Phone
What Does a Bark Phone Come With?
The Bark Phone includes a Samsung A series smartphone, a USB-C charger cord, an unlimited talk and text plan, and your choice of data plan. The phone also comes with a Bark Premium subscription family plan, so you can protect all of the other devices in your home.
Can I Transfer My Child's Number to a Bark Phone?
If your child already has a cell phone plan and number, Bark offers a free transfer of the number from its current subscription service.
What Apps are Available for the Bark Phone?
The Bark Phone works as a fully functional Android, giving your child access to all the apps found in the Google Play store. What makes Bark special is that you can control access to these apps with a simple toggle button. You can prevent any app downloads, allow all, or set custom rules that allow some while blocking others.